Carrie Underwood Opens Up About "Miracle" Pregnancy After Miscarriages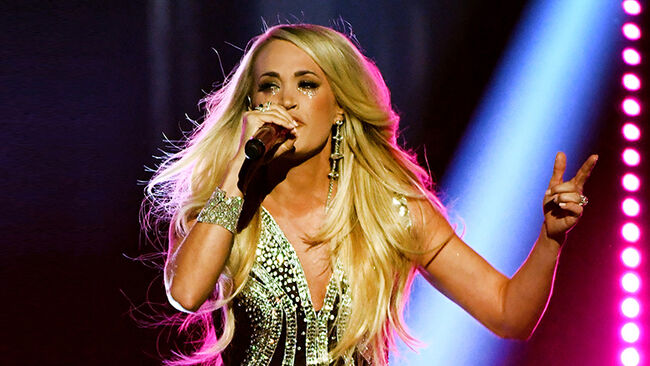 Carrie Underwood is opening up about traumatic and heartbreaking time in her life.
In an emotional interview with 'CBS Sunday Morning,' Underwood tearfully discloses deeply personal highs and lows of her journey to baby number two and reveals how those horrific experiences aided her emotional, honest, and raw new album 'Cry Pretty.'
The 35-year-old singer, who is now pregnant with her second child has experienced three miscarriages. She recounts the evening that she thought she was experiencing her fourth.
"Mike was away just for the evening, and I texted him, and I was like, 'I don't really want to be alone, so I'm just gonna go snuggle with Isaiah. And I don't know how I didn't wake him up, but I was just sobbing. And I was like, 'Why on earth do I keep getting pregnant if I can't have a kid? Like, what is this? Shut the door. Do something. Either shut the door or let me have a kid.'"
Prayers were answered for Underwood when was stunned by the positive news that she had not miscarried.
"For the first time, I feel like I actually I told God how I felt," Underwood says. "And I feel like we're supposed to do that. That was a Saturday – and the Monday I went to the doctor to confirm another miscarriage. And they told me everything was great! And I was like, 'You heard me.'"
Underwood joined Cody Alan in the studio recently where Alan asked her the bold foreshadowing question. "Cry Pretty, I feel like this song will go down as a signature song for you. Do you feel that way?"
Underwood without hesitation responded, "I hope so. I love it. I love the sentiment behind it… I think when we were writing it, it was all about being vulnerable, but being strong, and being kind of unapologetic about it. "
'Cry Pretty,' which was released on Friday [Sept. 14th] is Underwood's self-proclaimed most authentic and honest album to date. Underwood professes that this album was therapeutic to her grieving process and she is hopeful that 2019 will be a year of celebration; with new music, new tour, and new babies.
Photo Credit: Getty Images.